COVID-19 Postpones UVA Alumni's 2020 Fulbright Experiences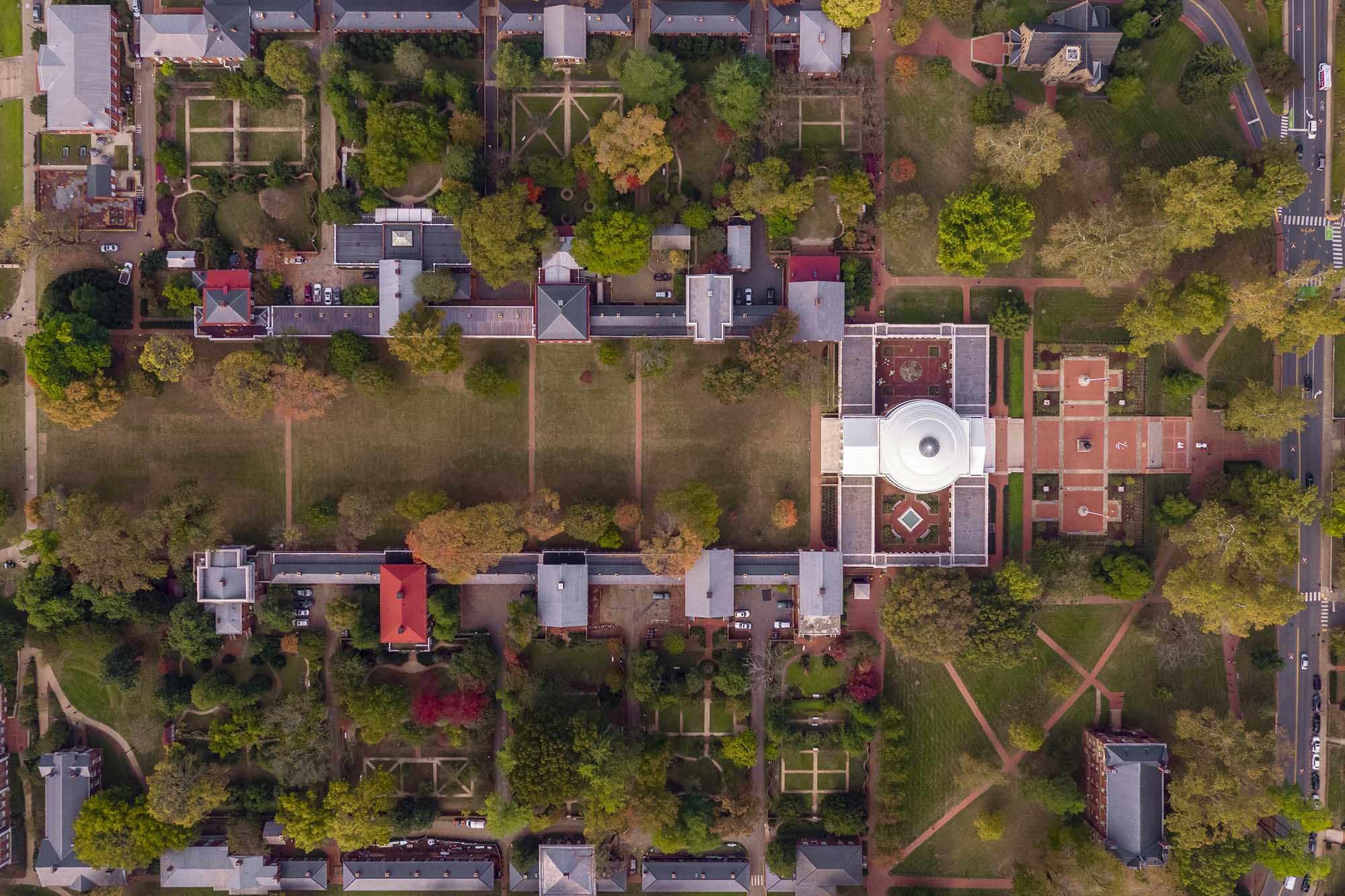 Last spring, Callie Collins, then a fourth-year student at the University of Virginia, was awarded a Fulbright Scholarship, the culmination of four years spent studying new cultures and languages. The good news, however, arrived in a changed world: COVID-19 sent Collins home for her last semester and put her Fulbright plans on hold.
"It still doesn't really feel real, for a number of reasons," said Collins, a double-major in Spanish and anthropology. "Every interaction I've had with fellow grantees and administration has been virtual, and to be honest, everything feels weird and unreal.
"Right now, we're scheduled to go in September 2021," said Collins, who is slated to be an English teaching assistant in Russia. "All the delays have been really jarring and made life really uncertain and stressful. My short- and long-term plans keep getting pushed further back or changing altogether."
Full immersion, overseas programs such as the Fulbright awards, have suffered in the world-wide pandemic, as have the recipients of these awards. Some students have had to give up their dreams, while others have deferred theirs.
"We love the Fulbright U.S. Student Award in our office for a number of reasons, but one of my personal reasons is that the folks who run Fulbright live out their mission daily," Andrus G. Ashoo, director of the Office of Citizen Scholar Development, said. "Fulbright is about mutual understanding between the people of the U.S. and the world, and that isn't just through the many students who go abroad each year. It also includes the diplomacy with the country commissions that leads to the opportunities and the selection of the students before theyever go abroad.
The Fulbright Program is funded by Congress through the Department of State to promote cultural exchange. In 2020, 17 UVA alumni and graduates were offered Fulbright awards for the 2020-21 school year, earning the University a spot on the Fulbright top-producers list for the fourth straight year, as published in The Chronicle of Higher Education. But host countries' concerns of the COVID-19 virus postponed the programs. Of the 17 awards, at least two have already declined.
"Where other fellowships simply made a quick decision like cancelling, moving online, etc., the folks at Fulbright worked overtime to work with each country," Ashoo said. "It was an admirable endeavor that will likely leave Fulbright in a stronger position in future years, but it hasn't always been easy on our students this year. Some of our students actually traveled on their award in the fall, others had their award cancelled, some had travel delayed – multiple times, in some cases – [while] others had their award postponed to the upcoming year, and some simply decided to pursue other opportunities."
Collins understands she is not alone in her frustration. "That's how it is for everyone right now – or often much, much worse," she said. "I'm thankful and grateful to have work to do and loved ones nearby who are safe and healthy."
UVA's Fulbright recipients for the 2019-20 school year are:
Temi Akinola
Akinola of Charlottesville, a 2020 global security and justice and French language and literature graduate, is an English teaching assistant in Abidjan, Ivory Coast.
"I am particularly interested in education and its formation on peace-building and human rights," she said. "I will be teaching English at an all-girls high school, completing tutoring college prep programs through the U.S Embassy and working with the National Council for Human Rights in [Ivory Coast]."
She was supposed to start in October 2020, but that was moved to the beginning of February.
"My stay has been condensed," she said. "Some of the programs that would usually take place in person, such as student workshops, question-and-answer sessions and panels, have had to take place online or via Zoom."
Akinola became interested in a Fulbright during an internship at the U.S. State Department.
"I knew that I wanted to work in international human rights, but before pursuing those long-term careers, I first wanted to live and spend time in the regions that were relevant to my work and of personal interest to me," she said. "I first became interested in [Ivory Coast] after doing more research on girls' representation in global classroom settings. I think it is incredibly important for young girls, especially Black girls, to see representations of themselves on all parts of the spectrum within educational spaces."
A two-time Oliver Hill Scholarship recipient, Akinola is a member of the Raven Society and was vice president of the UVA chapter of the ONE Campaign to eradicate hunger, poverty and preventable disease in Africa; an English as a second language tutor at International Rescue Committee; intern at the U.S State Department Bureau of Human Rights Labor and Democracy; and a Madison House volunteer. A graduate of the Albemarle High School, Akinola wants to pursue graduate degrees in international relations and human rights.
Cameron Bertron
Bertron, who graduated in 2020 with degrees in global security and justice and also Russian language and literature, declined her English teaching assistant program in Mongolia to pursue a master's degree in Russian and Eastern European studies at Oxford University in the United Kingdom.
"I declined the Fulbright last year was because I thought that it would be cancelled or delayed so long that I would not get much time in the program," she said. "I was also thrilled to get into my top grad school and it would have been an incredibly tough choice between the two programs if COVID-19 had not essentially decided it for me."
Bertron said it was a difficult decision.
"It took a lot of phone calls with friends and family to get advice and think over my plans," she said. "I'm glad that I chose grad school, even though it has been really difficult to adjust to the program in the pandemic. Russian studies was my major at UVA and I've loved learning more about the region these past two semesters."
Bertron has already re-applied for the same English teaching assistant program in Mongolia.
"While at UVA, I did a semester abroad in Irkutsk in southeast Siberia," she said. "I visited Mongolia while there, and I loved it. I thought living there would give me an opportunity to teach Russian and English, which are both priority languages for Mongolia. I also wanted to learn more about Soviet-Mongolian relations, which I think is under-studied in the field of Soviet history. Besides that, I love the region's nature and cuisine."
Elissa Boghosian
Boghosian, of Pasadena, California, will work as an English teaching assistant in Rwanda, starting in August.
Her interest in Rwanda was kindled by a 2016 study abroad program, during which she worked with the National Commission for the Fight Against Genocide.
"Classroom instruction from Rwandese professors educated me about Rwanda's history, politics and language, while field trips exposed me to national memorials and museums, government entities and non-governmental organizations contributing to Rwanda's post-genocide development," she said. "Meanwhile, independent research allowed me to explore the impact of 'Gacaca Courts,' a community-oriented and locally rooted transitional justice mechanism, on post-genocide community relationships."
Boghosian has worked as an English and math tutor in Charlottesville; Washington, D.C.; and Roanoke.
"It has have shown me the power of education as a conduit for growth and empowerment," she said. "As an English teaching assistant, I hope to cultivate similar intellectual curiosity and enthusiasm for learning that my professors, teachers, mentors and peers have instilled within me."
A graduate of the Polytechnic School in Pasadena, California Boghosian was an Echols Scholar at UVA, a member of the Raven Society, as well as Phi Beta Kappa and Pi Alpha Alpha. Boghosian graduated in 2018 with a bachelor's degree in public policy and leadership from the Batten School of Leadership and Public Policy. Since then she has been a health care consultant for Deloitte in Washington, D.C.
"I hope to pursue a career that integrates components of genocide research, documentation, memorialization and education," she said. "Coming from an Armenian family, this work has played an important role in my own history and identity."
Sarah Brotman
Brotman, who graduated in 2018 from the Batten School of Leadership and Public Policy, will conduct research with SwaTaleem, a foundation in Haryana in northern India that works to empower girls and encourage the exchange of best practices between schools in the Kasturba Gandhi Balika Vidyalaya, a residential girls' secondary school run by the Indian government. She is scheduled to start this summer.
Callie Collins
Collins, of Richmond, who received bachelors' degrees in anthropology and Spanish in 2020, will be an English teaching assistant at a university in Kazan, Russia.
"I studied Russian at length alongside my majors' studies and was totally captivated by the language and the people I met," she said. "Every Russian person who supported me in my studies was so kind, welcoming and delighted to share their language and culture and I feel indebted to them. I want to go to Russia to reciprocate what Russians have done for me and keep working to build connections and understanding between Russians and Americans."
Collins is currently working remotely as a language programs coordinator and instructor for the AES World Languages and Cultures Institute, a Boston nonprofit.
"I teach English for speakers of other languages and medical Spanish to health care professionals," she said. "I'm also making custom art, such as paintings and drawings, as a side hustle."
Collins' program was deferred a year by the Russians because of COVID-19.
The Fulbright posting will completely change Collins' routine, which she said she is looking forward to.
"I will be surrounded by Russians, Russian language and culture and a having a completely new routine to figure out, a new environment and a new life in general," she said. "It's going to be particularly exciting after the past year of quarantine.
While at UVA, Collins was a curatorial intern at the Kluge-Ruhe Aboriginal Art Collection and a photographer and associate editor at the Cavalier Daily. She translated Mexican dramatist Alejandro Ricaño's "Fractales," which was presented by the UVA Spanish Theater Group. She received a Mellon Indigenous Arts Grant, a UVA Office of Global Internships Grant and grants given to undertake research in Aboriginal communities in remote Australia for the Kluge-Ruhe Aboriginal Art Collection. She was a member of the Raven Society, Phi Beta Kappa and Sigma Delta Pi Sociedad Honoraria Hispanica.
A graduate of Patrick Henry High School, Collins plans to pursue a masters' in international affairs and possibly return to studying anthropology and art.
Maya Falicov
Falicov, who graduated from the College of Arts & Sciences in 2019 and from the School of Education and Human Development in 2020, will work as an English teaching assistant in Germany starting the in the fall.
Samuel Grimes
Grimes, of Norfolk, a religious studies graduate student, will study ritual with the Vajracharya tantric Buddhist priests in Kathmandu, Nepal.
"This Fulbright award was supposed to occur in the 2020-21 academic year, but was postponed due to COVID-19, and is now anticipated to take place entirely within 2021," Grimes said. "I have traveled regularly to Nepal since 2013. My primary specialization is in Sanskritic tantric Buddhism, especially in Nepal."
Grimes graduated from Virginia Commonwealth University in 2010 with a bachelor's degree in religious studies. He then earned a master's degree in Asian religions from the University of Hawaii in 2013 and a Master of Philosophy degree in classical Indian religions from the University of Oxford in the United Kingdom in 2016.
The Fulbright will allow him to further his research of the Newar Buddhist community. "I will be observing and examining ongoing changes within the Newar Buddhism of Nepal," he said. "The most primary of these changes involves opening this characteristically closed-off religion to a wider audience and allowing for the engagement with women, non-Newar Nepalis and foreigners."
Grimes received a Double-Hoo research award in 2020 to pursue these studies with undergraduate Emil Andersen, a third-year economics major. Grimes said that award, too, has been in limbo due to COVID-related travel restrictions.
"The Fulbright will supplement and add to the time I have already been in the field," Grimes said. "It will provide me with institutional support to carry out additional research. It will also help to increase the validity and exposure of the community I work with both in the academy at large, as well as on the international level."
Kellie Hartless
Hartless, of Chantilly, is working in Galicia, Spain, as an English teaching assistant.
"I have studied the Spanish language throughout my educational career, developing a deep appreciation for the language itself, as well as the opportunities it affords me to connect with others," Hartless said. "And after years of tutoring and mentoring at local schools, I felt that the intersection of education and intercultural exchange that Fulbright occupies was the perfect combination of my passions."
The COVID-19 virus has tempered her experience.
"As expected, the pandemic has certainly had a strong impact on the logistical elements of this experience," she said. "Rather than beginning in September, we began in January and have had to take many precautions – not only in our schools, but in our day-to-day lives as well. … However, I am learning what a unique opportunity it is to come to a new place in a time of difficulty and separation and yet still be able to feel the strong pulse of community."
Hartless graduated in 2020 with degrees in English and Spanish, and worked as a marketing and human resources intern until January, when she moved to Spain.
"The most appealing thing about Fulbright, to me, was the mission. I was energized by the idea of such purposeful investment in community-building and intercultural exchange. I studied abroad in Spain for a semester in 2018, and after those four months I knew that I wanted to return and really live in a Spanish community – investing in the place and the people – and Fulbright asks us to do just that."
While at UVA, Hartless chaired the UVA Student Ambassadors program and was a volunteer at Madison House and a member of Sigma Delta Pi and Alpha Delta Pi sorority. A graduate of Freedom High School in South Riding, Hartless plans to pursue a master's degree in human and social services and work in immigrant and refugee support.
Morgan King
King, who graduated from UVA in 2018, has started working as an English teaching assistant in Peru. Aside from teaching, King said she plans to share American culture with her community by hosting holiday celebrations and organizing an American book/movie club.
Savannah Maxwell
Maxwell, who graduated from UVA in 2018 with a degree in public policy from the Batten School of Leadership and Public Policy and a minor in Spanish, was supposed to be an English teaching assistant in Colombia, but opted to remain teaching in Washington, D.C.
"This was an extremely difficult decision for me to make," she said. "The virus delay did cause me to rethink my plans, as I was hesitant to uproot my life in Washington, D.C., mid-year in order to move abroad in the midst of a pandemic."
While it was hard for her to let go of a dream she had for many years, she feels good about choice to remain because she is teaching her students in person.
"I feel positive about the impact that I am making in my Spanish classroom here at [D.C. Public Schools]," she said. "I do have two friends from DCPS who decided to pursue the half-year of Fulbright this year, and I know that they are having incredible experiences. I am happy that their journeys worked out and that they are truly enjoying the cultural exchange experience, but I do not regret my own personal decision."
Juliana McCormick
McCormick, of Walnut Creek, California, is teaching English in Spain's Asturias region. She had been scheduled to start in September 2020, but was delayed to January.
"My grandmother, a Spanish teacher, shared poignant memories from her years in Spain and inspired me to work toward fluency – a journey that began when I studied in Valencia," she said. "I spent a summer practicing the language with a host family that embraced me as their own. I was thrilled to return to Spain to improve my language skills and develop as an educator."
McCormick graduated in 2018 with two majors: public policy and leadership from the Batten School of Leadership and Public Policy and media studies from the College of Arts & Sciences, with a minor in Spanish.
Teaching is important to McCormick.
"I've long gravitated to activities involving mentorship, such as coaching the neighborhood swim team, advising incoming undergraduates and leading a UVA history course," she said. "Those experiences brought me to Teach for America, and now Fulbright – the perfect pairing of my passion for teaching and my love for Spain."
At UVA, McCormick researched college sexual culture in a joint effort with UVA's media studies and sociology departments. She also facilitated an Interdisciplinary Studies course on the University's history to 60 undergraduates, and led discussions of Russian literature at Beaumont Juvenile Correctional Facility.
A Lawn resident and Echols Scholar, McCormick was a University Guide; president of the Phi Eta Sigma National Honor Society; an Echols Scholarship Ambassador; an orientation leader; and a member of The Virginia No-Tones, an a cappella group for the musically challenged.
"Fulbright has allowed me to pursue multiple interests at once – education, Spanish, global engagement – all of which will make me a more effective educator," she said.
Sasan Mousavi-Vapouri
Mousavi-Vapour, a Double-Hoo, is anxious to travel again and will travel to Luxembourg as an English teaching assistant.
Mousavi earned a bachelor's degree in English in 2014 and a master's in English in 2016, after which he was a writing tutor at the Naval Postgraduate School in Monterey, California, for two years.
"We're slated to hopefully begin our grants in September or October after our year was postponed due to COVID, but there haven't been any final confirmations just yet," he said.
"I backpacked around Europe for one year, working odd jobs in horse stables, hostels and French kitchens before enrolling in the Teaching Assistant Program in France in 2019," he said. "Until COVID-19 cut my teaching year short, I was working as an English teaching assistant at the Lycée Brossaud-Blancho in Saint-Nazaire, France. I'm back home in Reston now, itching to travel again."
Fulbright offers Mousavi an opportunity to teach English in the Grand Duchy of Luxembourg.
"It's a very diverse country as nearly half of its population is foreign-born," Mousavi said. "That interests me greatly as I'm Iranian-American and, beyond the teaching I'll do there, I'm particularly interested to find out how people there construct a sense of national identity based on their heritages or cultures, especially compared to my own experiences in the United States."
Mousavi said Luxembourg is small, but important.
"Luxembourg's capital is also one of the capitals of the European Union, so despite the nation's tiny size, it can't be overlooked in terms of its political and financial importance," he said.
While at UVA, Mousavi was a two-year Range resident, a former Brown College resident, as well as being a member of the Washington Literary Society and Debating Union, WXTJ student radio, Phi Beta Kappa and Phi Theta Kappa. A graduate of the Muslim Community School in Potomac, Maryland, Mousavi has no firm career plans.
"I'm keen to travel/teach for a bit longer before probably going back to graduate school for something else, currently undefined," he said. "I'm not at all career-oriented right now, but anything I commit to likely will involve writing, spinning records, traveling and grooving to music.
"My year of backpacking and the subsequent year of teaching really opened my eyes to how big the world is, how interesting people are, and how much I have yet to discover about it all."
Logan Petkosek
Petkosek is excited about language learning and will pursue this passion in Slovakia.
"While in Slovakia, I will serve as an English teaching assistant at a high school in a town about 1.5 hours outside of Bratislava," Petkosek said of her posting, which starts in September. "I am excited about my posting in a smaller town in Slovakia because I believe this will be an incredible opportunity to get to know the community, learn the language and immerse myself in Slovak culture."
Petkosek had initially been accepted to participate as Fulbright in Colombia, but this was cancelled for a year because of the coronavirus.
"A few weeks later, I was contacted by the Slovak Fulbright Commission and was offered an [English teaching assistant] position there," she said. "Though it is not where I originally anticipated on going, I am thrilled to be able to be in Central Europe and learn a new language."
A 2020 graduate with a double-major in economics and foreign affairs with a minor in Spanish, Petkosek has begun pursuing a master's degree in foreign service at Georgetown University and has been working part-time at an education management organization.
Coming from a military family, Petkosek is used to being overseas, and was involved in a variety of internationally oriented activities at UVA.
"One of my most impactful experience was my time volunteering in Charlottesville City Schools, Charlottesville High School the first year and Buford Middle School the following three, through Madison House's English for Speakers of Other Languages program," she said. "Thinking back to my own struggle to learn German in school, I loved being able to support English language learners here in the U.S."
Aside from her work at Madison House, where she was the ESOL program director, Petkosek was an intern at the International Studies Office; co-chair of Global Greeters; a moderator for the Center for American English Language & Culture; a founder of the Language Exchange Program; on the executive board of the Economics Club; a member of the Alfred Marshall Society; Economics Career Office sales force analyst; and a Lawn resident. A graduate of West Potomac High School, Petkosek plans an internationally oriented career.
"Once I complete graduate school in 2023, I hope to work at a multilateral financial institution or in impact investing, which combine my interests in economics and development," she said.
Daliya Saadoon
Saadoon, of Baghdad, Iraq, is studying the COVID-19 virus as research fellow at the Charite Universitätsmedizin, Berlin, Germany.
"I am researching how COVID-19 has impacted the mental health of refugees, in addition to investigating how living conditions in temporary housing facilities are affecting the rate of COVID-19 transmission in the refugee population," she said. "Having been a refugee and immigrating to the U.S. in 2009, the refugee population has always been one that I feel a personal connection to.
"During my time at UVA, I also found a passion for health care and public health, so I wanted to combine these two interests to better understand different refugee patient populations in regard to their specific health care context."
While she is studying the impacts of the virus, the virus is affecting how she studies it.
"COVID-19 has changed the course of my project, since lockdown measures are strict and I cannot interact with my team personally," she said. "However, we have been virtually meeting, and I am currently conducting virtual video interviews with some refugee patients."
Saadoon graduated from UVA in 2019 with a bachelor's in biology and worked as a medical assistant before starting her Fulbright grant.
At UVA, Saadoon was a volunteer interpreter for the International Rescue Committee, a tutor at the Islamic Society of Central Virginia mosque; and a Madison House youth soccer coach. She was a member of the Arab Student Organization and the Middle Eastern Leadership Council, and received a Parents Fund Gordon Burris Scholarship, a Sean N. Bryant Memorial Scholarship, a TASC Scholarship and a Raven Society Scholarship.
A graduate of Potomac Falls High School, she plans to attend medical school.
"Although I'm not sure which specialty, I am currently interested in family medicine and community health," she said. "I hope to further pursue community-health research in medical school and as a physician, and the Fulbright grant was a great way to start my path."
Katya Sankow
Sankow, of Pittsburgh, will begin teaching English in a Bulgarian secondary school in September.
"I frequently traveled to Bulgaria throughout my childhood to visit family, and I also taught English there in 2017," Sankow said. "I love the culture, food and pace of life.
"Now having studied the region from a geopolitical and security standpoint, I have questions on how to strengthen civil society in the region. Working in secondary education will hopefully help provide both answers and more questions. I'm excited to immerse myself as a contributing member of a Bulgarian community."
Sankow graduated from UVA in 2020 with degrees in Russian and Eastern European studies and foreign affairs. Since then, she has worked at the German Marshall Fund Alliance for Securing Democracy, the U.S. 2020 Census and performing freelance copy editing work.
"The Fulbright grant was originally slated to begin in September 2020, and I'm incredibly fortunate that my employer has been flexible and allowed me to adjust the length of my employment as I faced uncertainty associated with delayed start dates," Sankow said.
While a student at UVA, she served as vice president of the International Relations Organization; director of the Virginia International Crisis Simulation, a collegiate Model UN conference; and a researcher for "Global Inquirer" podcast. She was an English language partner for Volunteers with International Students, Staff and Scholars; an English as a second language tutor for Madison House; and a new resident liaison at Brown College. She received a Critical Language Scholarship to study Russian in Vladimir, Russia. A graduate of the Peters Township High School in McMurray, Pennsylvania, Sankow plans to work in Central Europe.
"I plan to pursue a career focused on strengthening civil society in Eastern Europe," she said. "After Fulbright, I'd like to work for a federal civilian agency to start advancing toward this goal."
Jordan Smithson
Smithson, of Richmond, will work as an English teaching assistant in India.
"I hope to cultivate a classroom environment of active communication, trust and mutual enthusiasm for learning," she said. "I aim to infuse our lessons with creative exploration and experimentation by hosting an after-school club focused on creative writing, poetry, drama and other forms of story-telling."
These plans have been delayed – twice – since she graduated with a degree in history in 2020.
"I was supposed to leave for the fellowship a few months after graduation," she said. "This start date was pushed back to January and then to July. This change of plans definitely led to some major adaptability and many last-minute decisions.
"Since graduation, I was selected to participate in the American Civil Liberties Union National Summer Advocacy Institute in August and began working as an editorial assistant at Virginia Living Magazine in Richmond. But mostly, I've been using this time for reflection, education and indulging in some much-missed personal reading and writing goals."
Smithson is no stranger to India, having studied there during the 2019 January term.
"I gained a deep respect for the country's rich and complex cultural history," she said. "I chose to apply to the Fulbright [English teaching assistant] program because I hoped the teaching component would immerse me most authentically into my environment and broaden my interaction with people. I included my creative expression after-school proposal because I believe that the greatest avenue toward linguistic fluency is to harness language to tell complex and compelling personal stories. Art allows people, especially young people, to make statements on their culture, communicate their struggles and celebrate their passions."
While at UVA, Smithson was an engaged scholarship intern at the Maxine-Platzer Lynn Women's Center, an intern at the Office of Undergraduate Admission and a University Guide. She was a member of the University Judiciary Committee; the Transfer Advisory Board and First Year Players.
A graduate of the James River High School, she plans to pursue a graduate degree. "I want to follow a career path that merges creativity with advocacy," Smithson said.
Zaakir Tameez
Tameez is pursuing a Master of Law degree at Queen Mary University in London, focusing on antitrust law from the European perspective, before attending Yale Law School.
"We're living through an era of mass business concentration, such as in health care and 'Big Tech,'" Tameez said. "The Europeans are far more hawkish with antitrust law. As companies become increasingly globalized, the E.U. and the U.S. cannot ignore each other any longer. The antitrust laws of both jurisdictions are intersecting. Living in the U.K., I'm studying at the bridge between the E.U. and the U.S. and hoping to get a deep understanding of both approaches to antitrust."
Tameez graduated in 2019 from the College of Arts & Sciences with degrees in economics and political and social thought, and then joined UVA President Jim Ryan's office as the inaugural presidential fellow.
"I worked full-time in the president's office for the next year and a half," Tameez said. "I did speechwriting for the president, conducted a lot of research and helped launch some of the strategic plan implementation. After UVA switched to remote learning, I transitioned into a role where I closely tracked college reopening plans at peer institutions to advise senior leadership. I also co-led the virtual Final Exercises ceremony planning in May 2020."
Tameez has a front-row seat to some English history during his time in London, where he has been in a multi-month lockdown.
"It has been a surreal experience to be in the U.K. during Brexit, a new coronavirus variant and one of the strictest lockdowns in the world," Tameez said. "Obviously, I haven't been able to do nearly as many things as I envisioned. But I'm grateful for every moment that I get to spend here and have really enjoyed experiencing a quieter version of London."
A Posse Scholar and a Lawn resident, Tameez co-founded the Muslim Institute of Leadership and Empowerment, and was a member of Student Council and the Muslim Students Association.