Hoo-Rizons: Crafty Alumnus Goes From the Dallas Cowboys to Painting Cowboys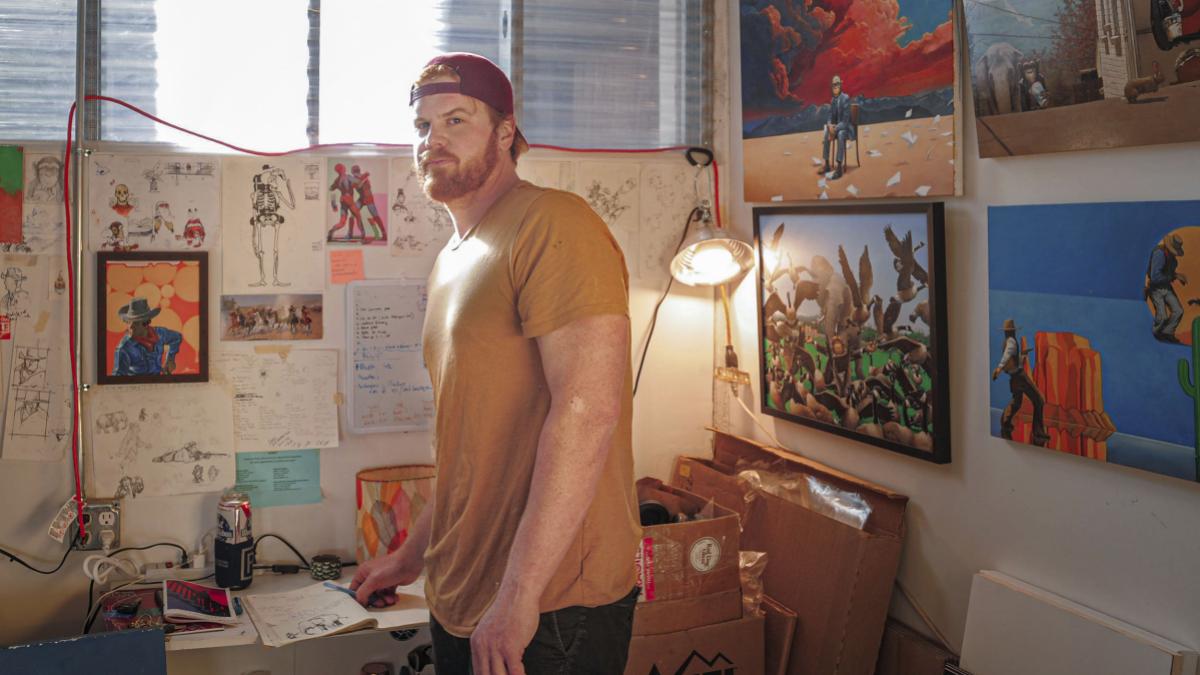 Barker said ideas just come to him.
"When I'm hiking, I always picture how 150 years ago there was probably some dude on a horse, a couple cowboys moving a herd in these areas, kind of like the nostalgic aspect of the West," Barker said. "That's the thing that drew me to Colorado. I've just always liked that nostalgic, Western feeling, whether it be through movies or cowboy toys when I was a kid. It always had that draw. Colorado is quintessential Wild Eest."
Barker grew up just outside of Philadelphia in Bryn Mawr, Pennsylvania, attending the Haverford School, where he played football and lacrosse.
From a young age, Barker – whose aunt and uncle attended UVA – wanted to become a Hoo.
Initially, the 6-foot-7 Barker hoped to play lacrosse for the Cavaliers, but through an introduction by former Hoos men's lacrosse coach Dom Starsia to former football coach Mike London (an assistant on Al Groh's staff at the time), Barker wound up playing football.
Barker, who never missed a start in his four seasons, was part of an outstanding offensive line that featured future NFL first-round draft picks Eugene Monroe and Branden Albert, along with Jordan Lipsey and Ian-Yates Cunningham.
Barker said his fondest memories include defeating the University of Miami, 48-0, in the last game at the Orange Bowl in 2007, and then going on to play in the Gator Bowl.
"We had a great time," said Barker, whose younger sister, Lila, a former lacrosse player, graduated from UVA in May. "It was a great group of guys. Everything jelled. We had a lot of fun. That was why I played football. That was it."
That "it" factor wasn't quite as palpable in the NFL.
After being cut by the Dallas Cowboys, who had signed him as an undrafted free agent, Barker played for the Tampa Bay Buccaneers for a season before moving on to the Miami Dolphins.
There were some memorable moments, such as making the Bucs' active roster, playing in a few games and being a member of a colorful Dolphins team with Chad Johnson and Richie Incognito that was the subject of the HBO reality series, "Hard Knocks."
"That was a wild experience," said Barker, alluding to the series.
Still, overall, playing in the NFL didn't get Barker's juices flowing the way playing at UVA had, and art was always in the back of his mind.
During the 2011 NFL work stoppage, during which players and owners negotiated a new collective bargaining agreement, Barker took an art class at a community college in Ft. Lauderdale. That was when he realized a career change was in order. With some money saved from his NFL career, Barker decided to retire from football, move to Vermont and open his own art studio.
Barker had quick success when he showed some of his acrylic, watercolor and oil paintings – part of a series called "Monkey Business" – at an art show in South Boston, Virginia, and sold a few pieces.