Newcastle academic launches campaign to dig for archaeology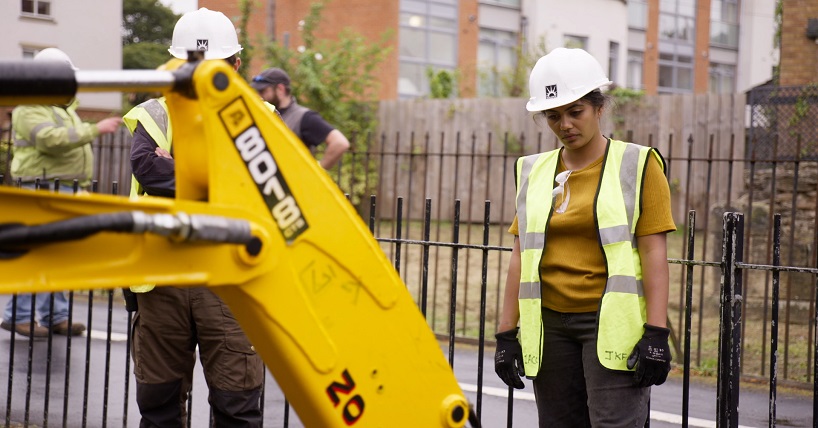 Published on: 10 June 2021
UK archaeologists are gearing up to campaign for UK archaeology, which faces multiple threats, in a movement initiated by a Newcastle University archaeologist.
Multiple threats
As Harrison Ford heads to the
North East
to film Indiana Jones 5,
Dr Chloe Duckworth
, with David Connolly, director of British Archaeological Jobs and Resources, have launched
Dig4Archaeology
with the support of major industry stakeholders including University Archaeology UK, the Chartered Institute for Archaeologists, and the Council for British Archaeology.
The national campaign aims to highlight the threats currently facing archaeology from a
skills shortage
in the sector, a reduction in government funding for archaeology degree courses, and proposed
reforms of the planning system
.
It also highlights the contribution of almost £250 million that commercial archaeology makes to the UK's economy, and the importance of
heritage tourism
– which is constantly reinvigorated by fresh archaeological discoveries and supports 386,000 jobs across the UK.
The campaign organisers have launched a
manifesto
demanding urgent action to safeguard the profession in both the academic and commercial sectors, and have won backing from a number of high-profile figures including Professor Alice Roberts, Dan Snow, and Green Party Peer Jenny Jones (Rt. Hon. Baroness Jones of Moulsecoomb).
"We want to send a clear message to the Government that archaeology matters," said Dr Duckworth. "By making cuts and undervaluing the contribution of archaeology to business and society, we risk serious long-term consequences. Once destroyed, archaeological evidence can never be recovered and if we also lose the skills and infrastructure, archaeology in the UK will take decades to recover."
One of the main aims of the campaign is to highlight that the legal requirement for an archaeological survey to be carried out ahead of any major housing or infrastructure project does not create costly delays and actually adds to local communities' sense of place, as well as ensuring the protection of the historic environment for the public's benefit.
"Archaeology is not red tape," added Dr Duckworth. "Professional archaeological intervention at an early stage prevents delays and saves up to £1.3 billion for construction companies. Dozens of significant discoveries in recent years would not have been made without archaeological involvement in the early stages of a development."
The Dig4Archaeology website has examples of recent finds that were discovered due to developer-funded archaeology include the remains of a 'high-status' Roman villa and bath-house never seen before in Britain discovered beneath a building site in Scarborough and the world's oldest known seagoing boat, dating from about 1500BC and which was discovered as part of archaeological work for the A20 road building project in Kent. The remains of Coleshill Manor, Warwickshire, were discovered during excavations undertaken as part of HS2 and revealed one of the best preserved late 16th century gardens ever discovered in this country. Entirely unknown before, experts say the site has parallels to the impressive ornamental gardens at Kenilworth Castle and Hampton Court Palace.
In recent years, TV shows such as Digging for Britain and the Great British Dig – which
Dr Duckworth presents
– have shown that archaeology continues to enjoy a wide appeal. Several community archaeology projects have also been highly successful, such as the National Lottery-funded
WallCAP
project which is managed by Newcastle University and which has attracted more than 400 volunteers to get involved with efforts to conserve and protect Hadrian's Wall.
Steve Wynne, CEO, Strawberry Blond TV, the company which makes the Great British Dig, said: "Archaeology is literally everywhere. It's woven into our day to day lives in a way I never realised until making our series The Great British Dig. It informs, enlightens, and teaches so much about our history and really isn't about just digging holes. Without it, we'd be a poorer nation and worse off society. It's absolutely crucial to support the work archaeologists do."
Dan Snow MBE said: "As we respond to issues like tech transformation, climate change and migration it is essential to learn how previous generations engaged with similar challenges and opportunities. There is no better training than archaeology."
For information on how to get involved in the Dig4Archaeology campaign, visit
www.dig4arch.co.uk