POV: What Went Wrong in Duxbury? And What Can We Do about It?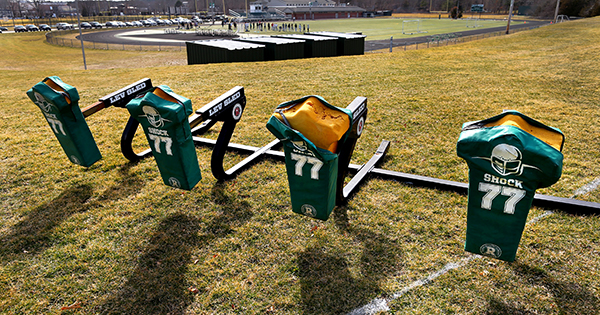 Before I address the case of the Duxbury High School football team's play calls during a recent Friday night game that reportedly included the words "rabbi," "dreydl," and "Auschwitz," let me express my condolences for the loss of Joseph Parker Foley, who died of a drug overdose in despair from abuse he allegedly suffered at the hands of his gym teacher and hockey coach, John Blake.
The allegations were made public in a lawsuit filed against Blake by Foley's parents and reported in the Boston Globe. Superintendent John Antonucci denied the allegation that the Duxbury school system acted neglectfully when it failed to act on prior allegations, even though officials were aware of Blake's "questionable behavior" since 2017. "[T]he District has investigated complaints against John Blake for questionable behavior—not for sexual abuse as is alleged in the lawsuit made public yesterday," the district said in a statement. "Not one of those investigations was able to identify actionable evidence of wrongdoing that would result in criminal or personnel charges."
In the same statement, Antonucci also refers to the matter of the controversial play calls that led to the firing of Duxbury's longtime high school football coach, Dave Maimaron.
Here is what we know happened: On March 12, the highly ranked Duxbury High football team played Plymouth North in a game that ended in a Duxbury rout by a score of 35-0. Ten days later, reports began to appear that some Duxbury players were overheard using play calls that included the terms mentioned above, as well as other potentially offensive language. Within days, Maimaron apologized, but he was subsequently fired as coach, while retaining his position as special education teacher.
Duxbury was one of the earliest colonies in New England, built on land inhabited by the Mashpee Wampanoag Tribe for thousands of years. According to the town website, it is today "primarily a residential community with a village atmosphere offering excellent schools, beaches, recreation, the arts, town services and government." By its own testimony, "Duxbury is widely regarded as one of the most desirable and picturesque communities in Massachusetts."
So what went wrong in Duxbury? I asked my friend, retired high school ESL teacher Steve Elliott, whose family wasn't far behind on a boat that arrived shortly after the Mayflower. His answer was, "ignorance." So should the coach have been fired, I asked him. He said, "Absolutely."
I am not so sure.
The antidote to ignorance is education, not punishment. It's time for Massachusetts to pass the genocide education bill that has been before the legislature for two years. The bill, if passed into law, would require the state to fund genocide education in middle and high schools across the commonwealth. The bill, An Act Advancing and Promoting Genocide Education, defines genocide as "at least 1 of the following acts committed with the intent to destroy, in whole or in part, a national, ethnic, racial or religious group, including, but not limited to: (i) killing members of a national, ethnic, racial or religious group; (ii) causing serious bodily or mental harm to members of a national, ethnic, racial or religious group; (iii) deliberately inflicting conditions of life calculated to bring about the physical destruction, in whole or in part, on a national, ethnic, racial or religious group; (iv) imposing measures intended to prevent births within a national, ethnic, racial or religious group; or (v) forcibly transferring children of a national, ethnic, racial or religious group to another national, ethnic, racial or religious group."
---

"If we believe in education, we need to start by educating the educators."

---
If a group of teenage football players, and their longtime coach, are comfortable throwing around words like "Auschwitz" so casually, then I am comfortable in stating they need to be educated better. The name "Auschwitz" is indelibly associated with the Nazi forced labor and extermination camp established near the Polish town of Oświęcim, where more than 1.1 million people died of starvation, disease, cruel medical experimentation, or by being sent to the gas chambers. The vast majority of them were Jews. The term "genocide" aptly describes the Nazi "war on the Jews" that culminated in the so-called "Final Solution" symbolized by Auschwitz. "Auschwitz" is not a play call—it is an abyss.
As I wrote here a year ago, studying the history of genocide is important, but facts are not enough. We also need to develop our imagination.
What happened in Duxbury shows not just ignorance, but a lack of imagination.
And imagination starts at home. For Duxbury, as for much of America, this means that the above definition of genocide does not just apply to things done elsewhere and to others. Rather we must also face the genocide of Native Americans on whose land this commonwealth was established. Genocide education cannot be limited to placing a taboo on the word "Auschwitz." It is also not enough to put students through sessions of viewing grueling images of past atrocities. We need to educate our teachers and our coaches.
If we believe in education, we need to start by educating the educators. The adoption of offensive terms as play calls was clearly unacceptable. It seems to have been the students' own idea to develop a code to use among themselves. But it was the coach's job to stop them in their tracks and make them understand that the language they chose was unacceptable, and why.
He had to know better and to understand that this, along with undisclosed other terms used by the students, was offensive. He should have found a way of explaining to them why they shouldn't use that kind of language. But educators need help, too. Learning doesn't stop at age 18. Or 22. That's why the genocide education bill is a good idea. Teachers need continuing education to meet the challenges of the day. Social norms change—these days faster than ever—and as educators we need to adjust and learn, all the time. Teacher training needs to be statewide, not just district by district, and not just after something like this happens.
It is these questions more than anything else that should inform the inquiry into what went wrong in Duxbury—and how to make lasting change to the culture of education.
"POV" is an opinion page that provides timely commentaries from students, faculty, and staff on a variety of issues: on-campus, local, state, national, or international. Anyone interested in submitting a piece, which should be about 700 words long, should contact John O'Rourke at orourkej@bu.edu. BU Today reserves the right to reject or edit submissions. The views expressed are solely those of the author and are not intended to represent the views of Boston University.