'She Never, Ever Got Rattled': Former All-American Continuing to Earn Honors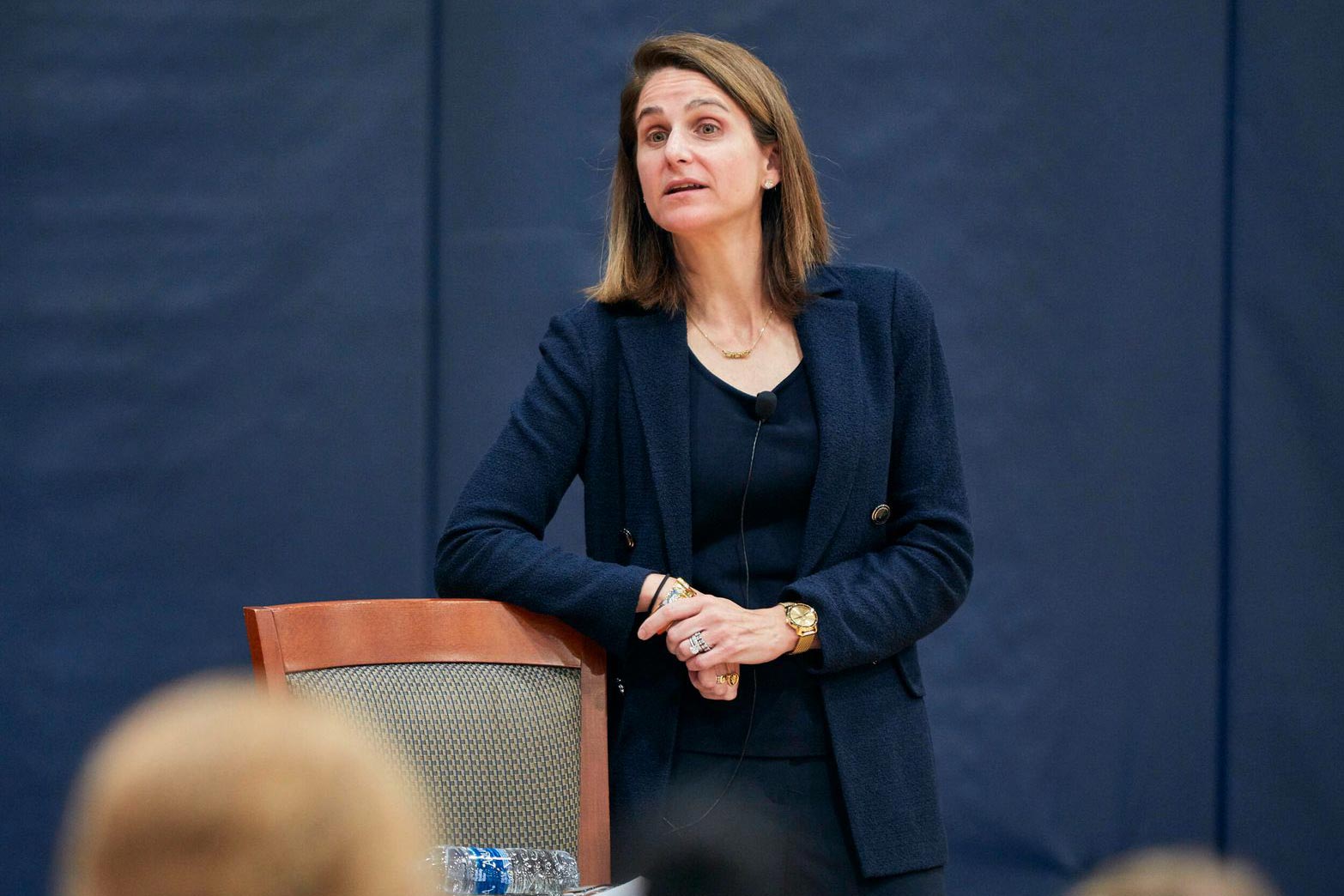 By the time Michelle Cusimano Vachris reached her fourth year at the University of Virginia in 1995-96, an era was ending. No longer were the rosters of the Cavalier field hockey and women's lacrosse teams virtually identical.
The situation was different when Julie Myers, now the head coach of the women's lacrosse program, was a UVA undergraduate. Myers, who preceded Vachris by six years at the University, played both field hockey and lacrosse, as did most of her teammates in those sports.
"It was a shared staff at that point," Myers recalled. "It was the same office. It was the same uniforms. It was the same players."
She laughed. "I don't even think we changed numbers, to be honest with you."
Few multi-sport athletes have accomplished more at the collegiate level than the former Michelle Cusimano, a goalkeeper who came to Virginia from Manhasset High on Long Island, New York. Just check UVA's record books. A quarter-century later after leaving Charlottesville, Vachris still ranks first in career saves (681) in the women's lacrosse program, and second in field hockey (474).
"It was definitely a different time, and I was lucky," said Vachris, who lives near Princeton, New Jersey, with her husband and their two sons. "With all the coaching changes that I had at UVA, the coaches were supportive of me playing both sports. Which was a big ask, because I wasn't with the field hockey team in the spring and I wasn't with the lacrosse team in the fall. Even though those offseasons were not what they are today, there still was a little bit of an offseason."
By her final year at UVA, "There were different coaches, different uniforms, [distinct] offseasons," Vachris said. "Not what it is today, by any stretch, but there was starting to be a real separation between the programs."
A psychology major at the University, Vachris has continued to distinguish herself since her college days, and her accomplishments have not gone unnoticed. She was one of the seven former college student-athletes who received prestigious Silver Anniversary Awards from the NCAA this month. The award recognizes college and professional achievements and civic contributions.
Vachris, who graduated magna cum laude from New York Law School in 2000, is now a vice president and associate general counsel for labor and employment relations at ViacomCBS. She's lived in the Northeast since leaving Charlottesville, but still treasures her time at the University.
"I'm so grateful that I had the opportunity to attend UVA," Vachris said. "It's a special place. It has a great reputation academically, and to be able to be a student-athlete at a school like UVA is really something I dreamed about. I made lifelong friends at UVA, and I loved field hockey and lacrosse, and the opportunity to play two sports that you love at a high level is pretty special."
She stays connected to UVA athletics and follows field hockey and women's lacrosse closely, as well as other sports. Her husband, Craig Vachris, a Brown University alumnus, has become a passionate UVA fan, too, and not only because of his wife.
Craig Vachris played lacrosse at Brown, where his head coach was Dom Starsia and his teammates includes Lars Tiffany. Starsia, of course, later coached Virginia to four NCAA titles and still lives in the Charlottesville area. His successor at UVA was Tiffany, who's heading into his fifth season with the Wahoos.
Michelle is married to Brown U co-capt of our '91 undefeated Ivy Championship Team, defenseman Craig Vachris. Craig should be counting his blessings every day!! https://t.co/MxSGC1wsWS

— Dom Starsia (@DomStarsiaPLL) January 7, 2021
"Whenever I say, 'Let's go to Charlottesville,' my husband enthusiastically says, 'Yes, let's go!'" Vachris said, laughing.
"It's really nice having the connection to Dom and to Lars. We've become real avid UVA fans. In 2019, we were at the NCAA basketball championship [in Minneapolis], and we also were fortunate enough to attend the men's lacrosse championship [in Philadelphia] as well. So in the matter of a couple of weeks we saw two amazing NCAA championships where UVA walked away with the trophy."
Vachris and her fellow Silver Anniversary Award recipients were honored earlier this month during a virtual celebration. Other recipients included Shareef Abdur-Rahim, who starred in men's basketball at the University of California. Abdur-Rahim's son, Jabri, is a freshman on the UVA men's basketball team.
Vachris said her younger son, Sam, met Jabri at a high school soccer game in New Jersey in November 2019.
"Sam had a Virginia sweatshirt on, and he went up to Jabri," Vachris said. "Jabri was so kind. We took a picture of them together, and it's really cool. I hope I get to meet Shareef one day so I can tell him about this chance encounter."
At Virginia, Vachris played for two head coaches in lacrosse: Jane Miller in 1993, '94 and '95 and Myers in '96. The Hoos won the NCAA title in 1993 and were NCAA runners-up in '96.
In field hockey, Vachris redshirted in 1992, when the Cavaliers' head coach was Julie Dayton. Vachris then played for Missi Sanders – who's married to UVA's longtime head men's soccer coach, George Gelnovatch – in '93, '94, '95 and '96. (Vachris competed as graduate student in '96.)
A three-time All-American in lacrosse, Vachris earned All-America honors in field hockey in 1996.
"She was, as I remember it, a big-time recruit," Myers said. "There was a lot of pressure on Michelle to be all that we thought she was going to be, and she delivered on both fields.
"She was always poised. She never, ever got rattled, no matter what the score was or what the game was feeling like. She was so steady and such a calming influence on not just the defense around her, but on the entire team. A lot of times goalies are kind of in their own world. That crease becomes their island. But Michelle really, really did lead the entire field, even though she was playing from the crease.
"I think that's because she was always super smart and always aware of what other people needed or what would work well for everyone."
The sports' differences could make moving back and forth between field hockey and lacrosse challenging, Vachris said. "But there are a lot of similarities, too. Being a goalie, you have to communicate with the defense, you have to see the field, and doing it in one sport helped me to play that position in the other sport.
"I didn't start playing field hockey until my sophomore year in high school, so I had more experience with lacrosse when I got to UVA, because I started playing in seventh grade. But by the time I left UVA, I really considered myself somebody who played both."
When she arrived at the University in 1992, Vachris didn't plan on pursuing a career in law. "I didn't know what I was going to do," she said. "It was an interest I developed after probably my third year at UVA."
After spending the spring of 1997 as an assistant coach for the women's lacrosse team at Yale University, Vachris moved to Manhattan and enrolled at New York Law School that fall.
"It was a great experience," she said. Initially, though, she felt disoriented. As Vachris told her audience during an espnW event at John Paul Jones Arena in April 2019, that was the first time in many years that she hadn't been a student-athlete, and she wasn't sure what to make of a day that didn't include practice.
Vachris adjusted, though, and thrived in her new environment. "The time management skills and what you learn as a student-athlete really helped me to be successful in law school, more successful than I thought I ever would have been," she said.
When she entered law school, Vachris stopped playing team sports, but she became an avid runner who often ran in Central Park. "That was my outlet," she said. "I even had a little running group. I did a little bit of coaching, but nothing significant. Being a law student was pretty time-intensive, and then over the summer my goal was to find internships and summer associate positions to hopefully help me after graduation."
Since graduating from law school, Vachris has had only two employers, which is unusual in her field. "The young lawyers kind of jump around now," she said. Vachris started in the Manhattan office of Proskauer, a large law firm, and then moved to CBS (now ViacomCBS) after about four years.
"I like the challenge," Vachris said of her work. "I like working with people."
She likes helping people, too. When the UVA women's lacrosse team played at Princeton last season, before the COVID-19 pandemic shut down college sports, Vachris shared some of her experiences with Myers' players.
"We did a professional development event," Myers said, "and she really helped lead the charge with that."
Vachris was part of a panel that included her former teammate Melissa Hayes Plunkett, who also played both field hockey and lacrosse for the Cavaliers, as well as former UVA lacrosse players Amy Fromal Austin and Daniela Kelly.
"We spoke to the entire team the night before the game in the [team] hotel," Vachris recalled. "It was a nice event, and we talked about our careers and how we got to our current positions, and then we broke out and had little focus groups."
Austin, who's a physician, spoke about medicine, and Kelly talked about the media industry. Plunkett "spoke to the student-athletes who were interested in finance, and I spoke to the student-athletes interested in the legal profession," Vachris said.
"It's really neat how the student-athletes have those opportunities now. It's not necessarily networking; it's hearing about the transition from being a student-athlete to a profession, a career, a job. What's that like? How do you manage it? It's nice that the University is focused on that."